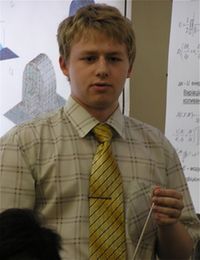 Andrey A. Osetrov,

PhD, Associate Professor.
EDUCATION:
• Graduated from the National Technical University "KhPI", Physical engineering faculty (2006), with the speciality «Dynamics and strength».
• Graduated from PhD-courses of the National Technical University "KhPI", on a chamber of Applied Mathematics under scientific guidance of prof. Kurpa L.V. (2006-2009).
The subject: «Development of methods and software for investigation of deflection and vibration of the multilayered shallow shells, using R-function theory and spline-approximation».
 
SCIENTIFIC INTERESTS:
Investigation of static and dynamic behavior of single and multilayered plates and shallow shells of complex plan-forms.
R-functions theory.
Development of algorithms using spline-approximation.
Numerical methods of integration inside non-canonical domains.
Numerical realization of sparse matrix linear algebra algorithms, sparse matrix storage and processing.
Contacts (email):  andy8383 (at) mail.ru