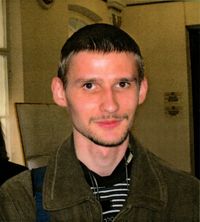 Nikolay V. Perepelkin,
PhD, Associate Professor
He has been working at the Department of Applied Mathematics since 2008.
Education:  Graduated from the National Technical University "KhPI", Physical Engineering Faculty (2008), his major is «Dynamics and strength». In 2008 entered PhD cources at NTU "KhPI", successfully graduated in 2011. PhD degree he received in 2013 (thesis: "Nonlinear normal modes of forced oscillations and their application in dynamics of single-disk rotors").
Career: During 2008-2013 N. Perepelkin holded positions of Assistant Lecturer, Engineer, Junior Researcher. Since 2013 he has been working at position of Assistant Professor.
Scientific interests: non-linear dynamics of mechanical systems, in particular, dynamics of finite-DOF systems, nonlinear normal modes theory, rotordynamics.
He has more than 30 scientific works.