Head of Department: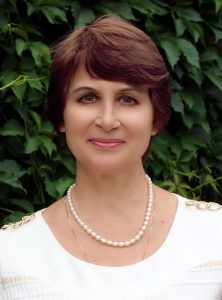 Severyn Nadiia
Scientometric data: Scholar / Scopus / Scholar Department
About the department
The Department of Humanities (DH) has existed since 1973. The Department is headed by associate professor, PhD Nadiia Severyn. The department consists of 2 professors, 4 associate professors, 10 senior teachers. DH provides training in Russian for students of engineering, medical, biological, economic and humanitarian fields of study. The department employs highly qualified specialists, most of whom taught Russian in different countries of the world – in Austria, Great Britain, Sweden, Spain, Italy, Syria, Sri Lanka, Mongolia, Algeria, Afghanistan, Guinea, Sudan, Cuba and Madagascar. Teachers of the department have written textbooks and teaching aids for which preparatory faculties of Ukraine, Russia, and Belarus work. Over the past 10 years, the department's specialists have written and published more than 50 textbooks and teaching aids, prepared 2 electronic manuals. During its existence, the Department of Humanities took students from Italy, Spain, Greece, Great Britain, Korea, and the USA during the summer holidays to language courses. As part of the contract with the University of Klagenfurt (Austria), since 1993, the department annually accepts students from different universities of Austria for summer language practice. Austrian students study the Russian language, Ukrainian and Russian culture, get acquainted with Kiev, Kharkov, Lviv, make trips along the southern coast of Crimea, conduct excursions to museums, theaters, universities and leading enterprises of Kharkov. The traditional outcome of educational work is graduation parties, where foreign students demonstrate not only their knowledge of the Russian language, but also their talents.