Head of Department: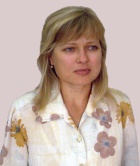 Lapuzina Elena Nikolaevna
Scientometric data: Scholar / Scopus / Scholar Department
About the department
The Department of Natural Sciences (DNS) was founded in 1973. Currently, highly qualified specialists work at the department: 2 professors, 4 associate professors, 3 senior teachers and 2 engineers.
The department provides teaching of natural sciences to foreign citizens who are preparing to continue their studies at higher educational institutions of Ukraine, and also provides training for junior specialists in economics in higher mathematics, mathematical modeling and regional ecology.
In the process of teaching students, teachers of the department are guided by the principles of pedagogical consistency, accessibility, logical presentation of the subject and repetition of material, which contributes to the assimilation of the lexical, terminological, grammatical minimum in the subjects and ensures a qualitative perception of lecture and practical material during further education at the university. The activation of acquired knowledge, the formation of skills is achieved through the use of active methods of conducting classes, including using computer technology.
Over the past years, the department has developed and implemented innovative teaching methods in the educational process: group research projects, role-playing games, situational tasks, elements of communicative teaching in natural sciences.
A striking example and the result of the application of communicative-problematic methods in the teaching of mathematics, computer science, physics, chemistry, drawing, the basics of ecology at the department is a qualitatively new level of holding annual traditional scientific and practical conferences for foreign students, namely, the active use by students of situational and computer presentations, as well as interactive reporting forms.
The department develops and prepares training complexes (study guides and computer training and monitoring programs for them) in the disciplines of the natural science cycle. In the process of training, students use more than fifty teaching aids and guidelines developed by the department staff.
Students receive the necessary level of knowledge in the natural sciences in the learning process at the Department of Natural Sciences and have the opportunity to enroll in any universities in Ukraine without further examinations, as well as take part in various research, educational, business projects and programs of Ukraine.
Scientific areas
Organization of course materials with elements of distance learning, scientific and professional communication, the development and application of innovative teaching methods, optimization of forms of training for foreign students.