Registration is Open
Information Letter: Download
Organizers
Program committee
Payment
Topics
Contact informations
Conference venue
Photos
National Academy of Sciences of Ukraine
The Ministry of Education and Science
Department of Physical and Technical Problems of Power Engineering NAS Institute of Electrodynamics of NAS
National Technical University "Kharkiv Polytechnic Institute"
National Technical University of Ukraine "Kyiv Polytechnic Institute"
Chairman
Sokol Е., corr.memb. NASU
Honorary Chairman
Kirilenko А. , academician NASU
Vice-Chairmans
Yakimenko Y., academician NASU
Zharkin A., corr.memb. NASU
Avrunin O., prof. (UA)
Antonov А., prof. (UA)
Bykh А., prof. (UA)
Butkevich А., prof. (UA)
Vinnikov D., prof. (EE)
Galkin I., prof. (LV)
Garganeev А., prof. (RU)
Govorov F., prof. (UA)
Denisuk S., prof. (UA)
Dolbnya V., prof. (UA)
Zhemerov G., prof. (UA)
Zhuikov V., prof. (UA)
Zinoviev G., prof. (RU)
Kipenskiy A. prof. (UA)
Klytta М., prof. (D)
Kuznetsov V., corr. memb. NASU (UA)
Lindemann А., prof. (D)
Lipkovsky К., prof. (UA)
Mikhalskiy V., corr. memb.  NASU (UA)
Novskyi V. prof. (UA)
Pavlov V., prof. (UA)
Pavlov G., prof. (UA)
Pivniak G., academician  NASU (UA)
Reztsov V., corr. memb.  NASU (UA)
Rozov V., corr. memb.  NASU (UA)
Segeda M., prof. (UA)
Sakara Y., prof. (UA)
Stakhiv P., prof. (UA)
Strzelecki R., prof. (PL)
Тimofeev V., prof. (UA)
Tomashevskyi R., prof. (UA)
Kharitonov S., prof. (RU)
Shidlovskaya N., corr. memb. NASU (UA)
Scherba А., corr. memb. NASU (UA)
Yurchenko N., prof. (UA)
Yamnenko J., prof. (UA)
Yandulsky А., prof. (UA)
Deniz YILDIRIM, prof. (TUR)
Murat YILMAZ, prof. (TUR)
Scientific secretaries:
Gorodzha L. (UA)
Shyshkin M. (UA)
Graduates Association The National Technical University
"Kharkov Politechnical Institute"
DEUTSCHE BANK AG
FRANKFURT, GERMANY SWIFT: DEUTDEFF
_________________________________
BENEFICIARY BANK:
ACC. # 10094986271000 EUR
UKRSOTSBANK,
KIEV, UKRAINE
SWIFT: UKRSUAUX
ACC. # 26000000074732

1. Power electronics and energy efficient electricity:
– Smart Grid, FATSTS, HVDC, distributed power systems;
– Modeling and analysis of energy efficient electric grids and conversion systems;
– Schematics of semiconductor power converters.
2. Regulation and control of electric power converters:
– Methods and ways of controls;
– Analysis, synthesis, simulation and optimization of regualtion and control systems;
– Microprocessor systems and control algorithms;
– Information and control system in the medical technics.
3. Power electronics circuits and devices:
– Components and materials of power electronics;
– Energy storage;
– Micro-and nanoelectronics.
4. Electromagnetic compatibility and power quality
– General principles of EMC;
– Measurements in power circuits;
– Active filters;
– Application of new circuit design, elements and materials to improve EMC.
IN ADDITION, DURING THE CONFERENCE WILL BE HELD:
Roundtable for University trainings of specialists in electronics and electric power engineering;
Address for material:
Organising Committee PEEE'2019 ISTC,
Department PBME, NTU "KPI"
str. Kirpichev, 2
Kharkov, 61002
Ukraine
For information call:
+38-057-707-60-44, fax: +38-057-707-63-12
International scientific-technical conference "Power Electronics and Energy Efficiency" will be held on the National technical University "Kharkiv Polytechnic Institute"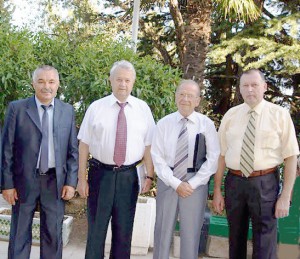 The history of the beginning of the international scientific-technical conference takes us into a seemingly minded 1993. In preparation for the 30 – anniversary of establishment of the department "Industrial Electronics" KPI, it was decided to organize the conference "Power Electronics in dealing with resource and energy problems" (RES-93), with the aim of exchanging scientific – technical information and consolidating scientific personnel to solve problems of energy saving in industrial processes and transport using means power and control electronics. On the idea of holding the conference responded to experts in the field of converter technology from the countries of CIS, and it was held in October on the basis of sports – recreation camp KPI "Studenchesky" (Alushta, Crimea). Since 1996, the International Scientific and Technical Conference (now the "Power Electronics and Energy Efficiency") has become an annual and steadily expanding its representation of experts. International scientific-technical conference SEE'2014 carried out on the basis of "Victoria" hotel (Odessa).