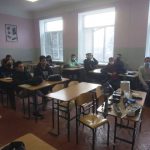 On Friday, December 24, 2021, Assoc. Yashcheritsyn E. and Bukatenko N. at 13.30 a career guidance event was held at the Kharkiv Computer and Technological College of NTU "KhPI".
The purpose of the event was to find entrants to the specialty 263 "Civil Security". The event was held in the form of a lecture on "Devices for control of harmful and dangerous factors of production". During the teaching of the material there was a demonstration of work on the following cathedral devices: noise meter "Robotron" 00024; anemometer wing digital AP-1; anemometer wing digital (portable) VTMETER VT-816V; pyrometers INFRARED THERMOMETER IEK 60825-1; U-116 luxmeters and other devices.
The event was attended by 4th year students of the college with a total of 15 students.
The presented photos show the working moments of the career guidance event.