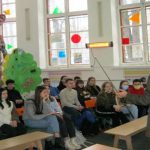 On Monday, January 24, 2022, Assoc. Yashcheritsyn E. from 15.00 to 16.00 in the "Arsenal of Ideas" (electric building of NTU "KhPI") as part of the general university event "Vacation in the style of STEM Camp School" was a career guidance event in the form of a lecture on "Interesting devices to control harmful and dangerous factors."
The purpose of the event was to develop students' interest in devices that measure the levels of harmful and dangerous factors of production, to determine the profession of people involved in this business and, accordingly, to find applicants for the specialty 263 "Civil Security".
For this purpose, a presentation was used, which was demonstrated with the help of multimedia equipment. At the same time there was a demonstration of work on the following cathedral devices: noise meter "Robotron" 00024; anemometer wing digital AP-1; anemometer wing digital (portable) VTMETER VT-816V; pyrometers INFRARED THERMOMETER IEK 60825-1; Uu-116 luxmeters and other devices.
The event was attended by 10th grade students of Kharkiv Secondary School №119 with a total number of 19 students and their accompanying teacher.
The presented photos show the working moments of the career guidance event.