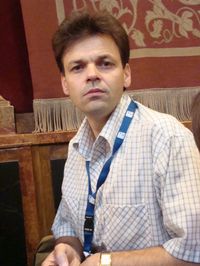 Vyacheslav N. Burlayenko,
PhD, Associate Professor.
 NTU KhPI, 2 Kyrpychova Str., Department of Applied Mathematics, educational building U-2, app. 406
   +38057 707 60 33
   burlayenko@kpi.kharkov.ua,  burlayenko@yahoo.com
Vyacheslav N. Burlayenko on ResearchGate; Scopus; GoogleScholar
Since 1999 he is working at the Department of Applied Mathematics of the National Technical University KhPI. He got a position of the associate professor at the Department of Applied Mathematics in September, 2002. V.N. Burlayenko teaches the course of higher mathematics at the different faculties of the University such as "Business and finances" and "Organic Substances Technology" (in English), "Integrated technologies and chemical engineering", "Engineering-and-Physical faculty", "Energy-engineering" and others.
He received his M.Sc. degree (diploma with honor) in the field of Dynamic and Strength of Machines from the Kharkiv Polytechnic Institute (current National Technical University KhPI) in 1993. He defended his Ph.D. in Solid Mechanics (specialty number is 01.02.04) at the A.N. Podgorny Institute for Mechanical Engineering Problems of the National Academy of Sciences of Ukraine in 1999. The title of his doctor degree's work was "Elaboration of methods for high-temperature creep and damage predictions of thin-walled structural elements at cyclic loading". In 2005 he earned the scientific title of Associate Professor of the Department of Applied Mathematics of the National Technical University KhPI.
The field of his scientific interests: Nonlinear Mechanics of Creep and Damage, Nonlinear Dynamics taking into account Contact and Friction phenomena, Structural Analysis of Modern Composite Materials, Finite Element Analysis and Simulations: implicit and explicit codes, Programming. In 1999 and 2003 he was twice awarded by the grant of Cabinet of Ministers of Ukraine for young scientist. In 2000 and 2003 he got international scientific grants awarded by DAAD (German academic exchange service) and INTAS–Young (International organization for assistance of collaboration with scientists from former countries of USSR). He took part as an expired researcher in two international scientific projects financed by Sixth (FP6) and Seventh (FP7) Framework Programme of European Union in 2008 and 2010, respectively. In 2015, V. N. Burlayenko received a grant of the German Research Foundation (DFG) for three-month research at the Otto von Guericke Magdeburg University, Magdeburg, Germany, and in 2015-2016 he was invited for 10 months as an Academic Visitor within the Erasmus Mundus ACTIVE program post-doc exchange at the University of Southampton, Southampton, England. V.N. Burlayenko is an author or co-author of more than 70 publications in scientific journals and conference proceedings and has 2 textbooks with co-authors. He takes an active participation in international scientific conferences, congresses and seminars.
V. N. Burlayenko has a membership in several international scientific societies – the German Society of Applied Mathematics and Mechanics (GAMM) as well as the European Society of Mechanics (EUROMECH) .