The Second Partner Meeting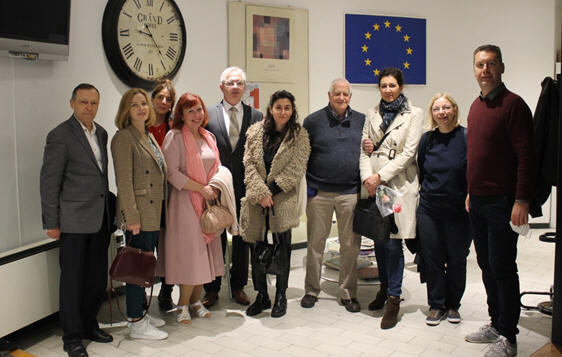 The second meeting of the partners of the international project "DIGI WOMEN, digital entrepreneurship tools and support for women entrepreneurs" in scope of the "Erasmus+" program took place on October 21 and 22, 2021 in Vicenza, Italy, and was hosted by the Consulenza Direzionale di Paolo Zaramella.
The main objectives of the meeting were to review the completed tasks and achievements of the first stage of the project, to discuss current and future tasks of the second stage, the problems related to their implementation and to draw up a plan for the overall completion of the project.
Despite the desire to hold the meeting fully in a presence form, some circumstances necessitated the combination of in presence with online participation.
The following representatives of the partner organizations actively participated in the meeting:
Dr. Paolo Zaramella and Alberto Maistrello from Consulenta Direcionale di Paolo Zaramella, Italy, as well as Dr. Ria Aerts (online);
Ms. Katerina Mouratidou and Ms. Alexandra Thomaidou from the Greek Association of Women Entrepreneurs – SEGE, Greece;
Dr. Vera Komarova from Cluster Experts Baltic Sea Region, Latvia;
Prof. Igor Kononenko and Assoc. Prof. Marina Grinchenko from the Department of Strategic Management, National Technical University "Kharkiv Polytechnic Institute", Ukraine;
Dr. Mirela Alpeza and Ms. Danica Eterović from CEPOR – Center for SME and Entrepreneurship Policy, Croatia;
Mr. Herwig Simoner from bit management Beratung GesmbH, Austria (online); and
Assoc. Prof. Kostadin Kolarov from the Institute of Entrepreneurship of UNWE, project coordinator.
During the meeting of the partners the following issues were discussed and decided:
• Practical application of the curriculum developed under the project in the countries represented in the project;
• Objectives, approaches and methods for dissemination of project results;
• Work plan and schedule of upcoming task;
• The experience from the conducted multiplier events and the preparation of the forthcoming events;
• Organizing the planned one-week training of expert trainers on the issues of digitalization of enterprises established and managed by women entrepreneurs.
Within the meeting of the partners a workshop on digitalization of women-run businesses was held with the participation of Ms. Laura Ceccon (expert in the field of communication and marketing and entrepreneur), Ms. Ana Laura Benachio (expert on social media marketing) and Ms. Moran De Sanctis (trainer at StudioCentroPersonale e Traduzioni srl – provider of training courses also for unemployed women).