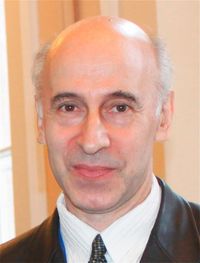 Yuri V. Mikhlin,
DSc, Professor.
 NTU KhPI, 2 Kyrpychova Str., Department of Applied Mathematics, educational building U-2, app. 404
 +38057 707-67-94
  muv@kpi.kharkov.ua, Yuri_Mikhlin@mail.ru
 Scientific interests in Mechanics and Applied Mathematics.
Born 21.09.1947 in Dnepropetrovsk.
EDUCATIONAL BACKGROUND:
• 1988 Doctor of Science (Physics & Mathematics) from Moscow Institute for Problems in Mechanics, Russian Academy of Sciences. Thesis "Normal vibrations of the nonlinear finite-dimensional systems"
• 1974 PhD (Physics & Mathematics) from Dnepropetrovsk State University
• 1970 Graduated from the Mechanics & Mathematics Faculty of the Dnepropetrovsk State University summa cum laude in Dynamics and Strength of Machine Tools
RESEARCH AND FACULTY APPOINTMENTS:
1995 – at present: National Technical University "Kharkiv Polytechnic Institute" (Professor at the Applied Mathematics Department).
1989-1995: Dnepropetrovsk State University (Professor).
1976-1989: Dnepropetrovsk Civil Engineering Institute (Docent in Mathematics, Researcher in Mechanics).
1970-1976: Dnepropetrovsk Automation in Metallurgy Institute (Engineer and Researcher in Mechanics and Control).
ACADEMIC ACTIVITY:
Nonlinear vibrations, Asymptotic methods in applied mathematics, Nonlinear oscillations and stability of motion, Ordinary differential equations, Application of the group theory in ODE, Differential geometry, Complex variable functions, Variational calculus, Mathematical modeling and other courses
QUALIFICATION and AREA OF EXPERTISE:
About 48 years of experience in Nonlinear Dynamics and Applied Mathematics.
The main scientific results in: Theory of nonlinear normal vibration modes; Analysis of the nonlinear vibrations stability; Asymptotic methods; Nonlinear Dynamics of elastic systems.
Current research focuses on: Nonlinear normal mode theory; Resonance dynamics of dissipative systems; Nonlinear dynamics of the systems with limited power supply, Nonlinear dynamics of elastic systems, Vibro-absorption problems; Transient and localization problems, Nonlinear waves et al.
Supervisor for one Dr. Sci. Thesis and five PhD theses.
INTERNATIONAL SCIENTIFIC ACTIVITY:
Memberships in Editorial Board in journals "Nonlinear Dynamics", "Mathematical Problems in Engineering" and "Proceedings of the Institution of Mechanical Engineers, Part C:  Journal of Mechanical Engineering Science".
Organizer and Chairman of the Sci. Committees of the International Conferences on Nonlinear Dynamics at the National Technical University "Kharkiv Polytechnic Institute" (2004, 2007, 2010, 2013 and 2016) with participation of scientists from Australia, Brazil, Canada, Germany, Italy, Japan, Korea, Poland, Portuguese, Russia, Serbia, Ukraine, UK, USA, and other countries.
Organizer and Chair of Mini-symposia in framework of ENOC (European Nonlinear Oscillations Conferences) in S-Petersberg, 2008, Roma, 2011, Vienna, 2014, Budapest, 2017. Memberships in Scientific Committees of Int. conferences in Belgium, Canada, France, Greece, Italy, Poland, Ukraine, UK et al.
Visits to: Mathematical Institute, Beograd, Serbia, 2017, Technion, Haifa, Israel, 2015, University UNESP-Rio Claro, SP, Brazil, 2012; Glasgow University, UK, 2008; Aberdeen University, UK, 2008; Michigan University at Ann Arbor, USA, 2005;  ENTPE, Lion, France, 2003;  Modena University, Italy, 2001;  Technical University, Vienna, Austria, 2000 et al.
Participation at the Int. conferences in Austria, Belgium, France, Germany, Greece, Israel, Italy, Netherlands, UK et al. Organizer of Mini-Symposiums at the European Nonlinear Oscillation Conferences (2008; 2011)
PUBLICATIONS:
Number of publications: more than 240 papers in refereed journals and communications to scientific meetings. Number of books: 7 (with co-authors)
Guest Editor of Special Issues in Journal of Sound and Vibration (2009), Mathematical Problems in Engineering (2010), Proceedings of the Institution of Mechanical Engineers. Journal of Mechanical Engineering Science (2016), Int. Journal of Nonlinear Mechanics (2017).
H-index=19 by Google Scholar Citation.