Michael Soloshchuk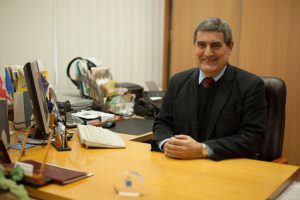 Ph.D., Professor of the Department
Professor of the "Computer science and intellectual property" Department of the National Technical University "Kharkiv Polytechnic Institute", president of information-technological company LLC "Institute of research and technology perspectives" INSART Ltd., academician of the Academy of Sciences of Applied Radio Electronics, member of the Editorial Board of the Scientific and Practical Journal "Theory and Practice of Intellectual Property".
Author of more than 70 scientific and educational publications, including 4 inventions, 3 textbooks with the stamp of the Ministry of Education and Science of Ukraine and the textbook "Intellectual Property" for students and listeners of higher and postgraduate education.
Research and professional interests – theory and design of specialized processors for digital processing of pseudo-random sequences and signals, intellectual property management, commercialization of scientific and technical developments and technology transfer, training and retraining of specialists in information technology, consolidated information and intellectual property.
Information about professional development:
International internship at the University "Higher School of Information Systems Management" (Informācijas sistēmu menedžmenta augstskola (ISMA), Riga, Latvia) from March 1, 2021 to April 10, 2021 under the program: "Computer systems and networks in the learning process"
Disciplines:
Computer circuitry. Computer architecture;
Algorithm theory;
Introduction to the specialty "Consolidated Information";
Intellectual property
Personal profiles: