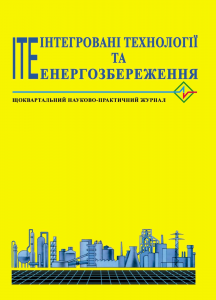 The scientific and practical journal "Integrated Technologies and Energy Conservation" was established in 1998 by Kharkiv State Polytechnic institute (since November 2000 it is called National Technical University "Kharkiv Polytechnic Institute) and registered by the Ministry of Information of Ukraine (CI № 3427). The founder and the editor is National Technical University "Kharkiv Polytechnic Institute ". The journal "Integrated Technologies and Energy Conservation" has been included into the list of scientific professional publications of the HAC of Ukraine (HAC is the abbr. for Higher Academician Commission), (the Decree of the Presidium of HAC of Ukraine, protocol № 1-05/7 of 06.09.1999) in the field of technical sciences and the other thematic directions, that reflect the activities of scientific schools of the University and potential competitors for scientific degrees and academic ranks.
The Editorial Board consists of 11 Doctors of Technical Sciences, 1 Doctor of Physical and Mathematical Sciences and 1 Academician of NAS of Ukraine. Among them there are 7 staff employees of the university.
The analysis of the power engineering development and modern methods of energy conservation has been done for more than ten years in the journal editions. This journal examines the questions and problems of modern power engineering, energy technology of power-consuming industry branches, alternative sources of energy, resource conservation, questions of modeling the process of industrial equipment, processes and equipment of various branches of industry (chemical, food, energy, municipal power engineering, medical equipment, etc.); questions of automated control systems and information processing, heat-and mass-exchanging processes and equipment of special technique, questions and problems of electricity and power control.
Special attention is paid to environmental protection problems and prospects of conversion of industrial and domestic wastes.
Ukrainian and foreign scientists and specialists are, undoubtedly, interested in the latest modern achievements, covered in this journal. This is widely illustrated by the publications made by prominent scientists and specialists, who represent universities, profile organizations and industrial enterprises of more than ten countries in the world.
The journal "Integrated Technologies and Energy Conservation" is published quarterly, each having 300 copies.
The wide spectrum of questions, covered by this journal allows scientists, post-graduates, workers of industrial enterprises, teachers etc. to test the results of scientific investigations and theses relating to technical sciences and to present them in three specialized academic councils of Ukraine HAC that work at the NTU "KhPI".