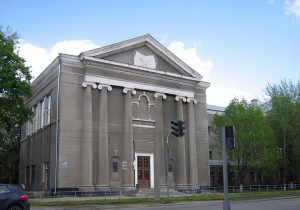 Educational and Scientific Institute of International Education of the National Technical University "Kharkov Polytechnic Institute" Created in 2009 by order of the rector of the university No. 234-1 of 05/27/2009. In order to further improve the training system for specialists of foreign countries.
Targets:
Creation of a systematic information and methodological environment to ensure a high level of organization of the educational process using modern teaching methods, providing high quality educational services for foreign citizens, the formation of a single international student environment in NTU "KhPI".
From the history of training specialists for foreign countries in NTU "KhPI"
The first admission of foreign citizens at the university was carried out in 1946. Citizens of Bulgaria and Korea became students of KhPI. Since then, students from Asia, Africa, Europe and Latin America have been studying at KhPI.
Until 1996, the dean's office for work with foreign students and the preparatory department were engaged in organizing the preparation of foreign citizens at KhPI. In 1996, the Center for the Training of Foreign Citizens (CPPI) was created, which organized and coordinated all work related to foreign university students.
In 2009, in connection with the expansion of the task and the direction of work, the faculty of international education was created, which included the Central Institute for the Study of Computational Studies, the preparatory department and the departments of pre-university training of foreign citizens.
Today, more than 2000 foreigners study at 19 university departments (76 specialties). Since 2004, training of foreign citizens is carried out in English for a separate specialty.
Activities:
organization of admission of foreign students in NTU "KhPI" for all forms of education;
the formation of a plan for the admission of foreign citizens to the preparatory department and a general plan for the admission of students, graduate students, doctoral students to main faculties;
organization of work on the registration of foreign students in Ukraine;
organization of pre-university training of foreign citizens at the preparatory department
organization of training of bachelors, specialists and masters among foreign citizens at the main faculties of NTU "KhPI" in licensed specialties;
monitoring the ACTIVITIES of faculties with the implementation of curricula and programs for foreign students;
the organization of control and analysis of the educational and educational process with the aim of improving it in the implementation of MODERN educational programs;
cooperation with supplier companies for educational work with foreign students.