Every year the Department of Occupational Health and Environment of NTU "KhPI" together with the Department of Science and Education of Ukraine, conducts competition for schoolchildren «Safety of eyes child».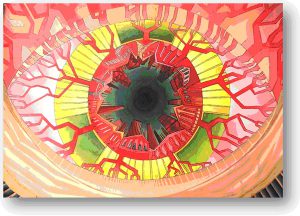 The purpose of the competition: Pay attention of students and engage in finding solutions to the problems of life safety in the modern conditions of our country.
Task of the competition:
1. To form a subjective idea about the sources of real dangers of the younger generation.
2. To find and indicate ways to overcome the existing dangers in modern society and to preserve the health of the population.
Participants: pupils of grades 10-11.
Competition Jury: leading experts in life safety, teachers of NTU "KhPI".
COMPANY NOMINATIONS:
1. Information Dangers.
2. Dangers in public places.
3. Natural hazards.
4. Technogenic hazards.
5. Military danger.
6. Transport dangers.
SUBMISSION FORM:
– Scientific abstract.
– Picture with annotation.
CRITERIA FOR EVALUATION OF JOURNAL:
• registration of work.
• relevance of the topic.
• compliance of the chosen nomination and the completeness of the topic disclosure.
• A personal perspective on the problem.
• originality of the proposed solutions.
• observance of the term for submission of work to the jury.
AWARD OF WINNERS OF THE COMPETITION:
The winners of the competition and their teachers-organizers are awarded with diplomas of winners, diplomas for active participation and originality of the decision of modern problems of safety of life and activity of people.
The Kharkiv competition the "Safety of eyes child" (2019)
We inform about the holding of the competition "SAFETY IN THE EYES OF CHILDREN", which is held by the department "Labor Protection and Environment" of the National Technical University "Kharkiv Polytechnic Institute".
Works for the competition must be delivered to the organizing committee from February 1, 2019 to February 15, 2019. Additional information in the attached file.  – Information letter.
Results of the competition in 2019.